Where is Montenegro
Montenegro (meaning "Black Mountain") is a country in Southeastern Europe. It has a coast on the Adriatic Sea to the south-west and is bordered by Croatia to the west, Bosnia and Herzegovina to the northwest, Serbia to the northeast, Kosovo to the east and Albania to the south-east.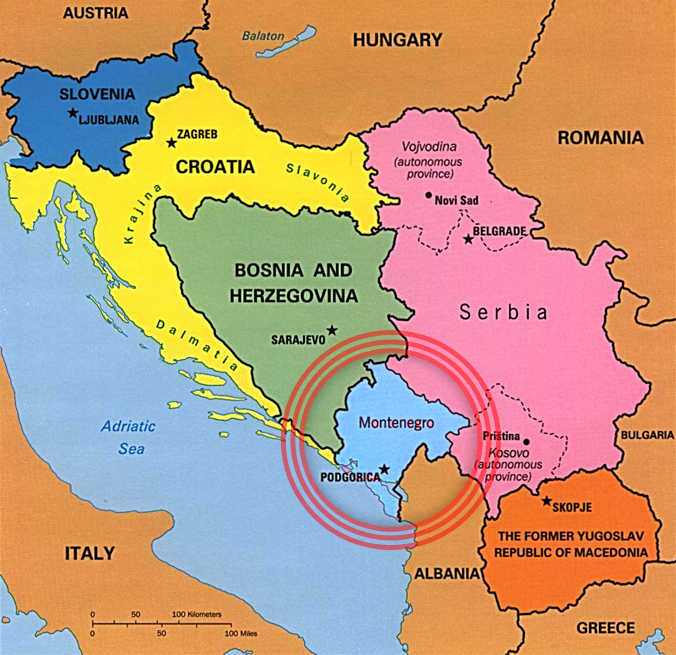 Its capital and largest city is Podgorica, while Cetinje is designated as the Prijestonica, meaning the former Royal Capital City.
Border crossings and visas

You are allowed to stay in Montenegro up to 90 based on a short stay visa or without visa. Citizens of the EU, USA, Russia Japan and Israel and neighbouring countries do not need visas.
BORDER CROSSING CHECKPOINTS
Airports: Airport Podgorica (TGD) and Airport Tivat (TIV) - www.montenegroairports.com
Roads: with Serbia (Ranče, Čemerno, Dobrakovo, Kula, Draženovac, Vuče), with Albania (Božaj, Sukobin, Grnčar), with B&H (Sitnica, Ilino brdo, Vraćenovići, Krstac, Nudo, Šćepan Polje, Metaljka, Šula), with Croatia (Debeli brijeg, Kobila)
Railways: with Serbia and Albania (Tuzi)
Seaports: the ports of Bar, Budva, Kotor, Zelenika, Risan
REGISTRATION OF YOUR STAY IN MONTENEGRO
All foreign citizens without registered permanent residence are obliged to register with police and report change of address 24 hours after they enter the county. If you are staying in a hotel or private accommodation owners of these facilities will do it for you.
UNOFFICIAL BORDER CROSSINGS
If you are planning to take a hiking tour which includes crossing of the state border outside the official state border crossing points (e.g. Prokletije, Hajla, Ljubisnja, Kamena Gora, Maglic, Orjen mountains…), a relevant legal procedure must be observed.
The application form for crossing a state border outside the official state border crossing points (attached) should be lodged with the competent institution, namely state border police of the country from which you are exiting. Border police of the exiting state shall undertake all the necessary measures so to provide for your safe crossing. 
When making plans to exit Montenegro outside the official state border crossings points, the Application form should be lodged with the local border police office which is in charge for the relevant area (contacts are attached) and they will provide you with their reply in a timely fashion. In cooperation with the border police of the neighboring country, a competent organizational unit of the border police shall provide all the conditions for your uninterrupted and safe crossing and inform you thereof.
The Application form may be lodged for groups and individual crossings the state border.
Along with the filled Application form, a scanned travel documents should be sent by email or by fax.
If you are not sure to which border zone belongs the area for which you are submitting your Application form, we kindly ask you to send your Application form to the following email address:[email protected] or [email protected]
Bringing in food and drinks

Food which makes part of passenger baggage and is intended to be used during the travel shall not be subject to inspection.
In Montenegro it is allowed to bring in products for infant feeding and dietetic food used for medical reasons, provided that it does not require special methods of storage. These products must have a declaration and undamaged packaging.
Tourists are allowed to have in their luggage dried fruits, vegetables, mushrooms, raw coffee, spices and teas whose total weight must be less than one kilogram and one liter of alcoholic beverage in original packaging with declaration.
Bringing in two liters of another beverage is allowed and it must also have declaration and must be packed in the original packaging. Bringing in up to five liters of bottled water in its original packaging is also allowed.
Combined and other food that is packaged, with a declaration, intended for direct consumption, and requires no special storage temperature regime, packed in its original packaging, unless it is currently being used, can be brought in, in the total amount of up to one kilogram - sandwiches, cookies, etc.
Currency and manner of payment
Official means of payment in Montenegro is EUR (€).
Seven banknotes in the following denominations are in circulation: 5€,10€, 20€, 50€, 100€, 200€ and 500€ and eight coins of 1€ and 2€ as well as 1, 2, 5, 10, 20, 50 cents.
Foreign currency exchange is conducted in commercial banks and exchange offices.   
Payment cards
In Montenegro you can use the following credit cards:
Visa, Visa Electron, MasterCard, Maestro, American Express, Diners.
You can pay by credit cards in the largest number of catering facilities, restaurants, hotels, bars, gas stations, food stores and consumer goods shops.
In all towns there are ATMs where you can raise money.
Banks in Montenegro
CKB (Crnogorska komercijalna banka) - www.ckb.me  
Podgorička banka Societe Generale Group - www.pgbanka.com  
Atlasmont banka - www.atlasmontbanka.com   
Prva banka - www.prvabankacg.com  
Hipotekarna banka - www.hipotekarnabanka.com  
Hypo Group Alpe Adria - www.hypo-alpe-adria.co.me 
Invest banka Montenegro - www.invest-banka.com  
Komercijalna banka - www.kombankbd.com  
NLB Montenegro banka - www.montenegrobanka.com  
Erste bank - www.erstebank.me
Important telephone numbers
Montenegro Customer Care: 1300 (24 h - tourist service - information, complaints, praises)
Police - 122
Ambulance service - 124
Help on the road: 19807
Fire department: 123
Weather forecast: 044800200
AIRPORTS - www.montenegroairports.com
Airport Podgorica (TGD): +382 (20) 444 240,444 242
Airport Tivat (TIV): +382 (32) 670 975

RAILWAY TRANSPORT 
Railway station Podgorica: +382 (20) 411 211
Railway station Bar: +382 (30) 301 615

MARITIME TRANSPORT - www.montenegrolines.net
Barska plovidba: +382 (30) 303 469,311 164

MOBILE TELEPHONY PROVIDERS
Telenor - 1188
T Mobile – 1500
M:Tel – 1600
Working hours and holidays
Working hours
Common working hours of the shops is 09.00-21.00h. 
Food shops are open from 06.00-21.00h. In tourist places in tourist season almost all shops are open until 24.00h.

Working hours of post offices and banks
The largest number of post offices works from 08.00-20.00h. In summer time they work longer hours. 
Banks are open from 08.00-20.00h.

Holidays
1st January – New Year  
7th January – Christmas  
1st May – International Labour Day
21st May – Independence Day of Montenegro
13th July – Statehood Day of Montenegro

Religious holidays
Christmas, Easter and Bayram
All holidays in Montenegro are celebrated two days. Major religious holidays are also celebrated. 
If holiday falls on a Sunday, the following two days are deemed to be a holiday. 
If the second day of holiday falls on a Sunday, the following workday is deemed to be a public holiday.  
About Sutomore

Sutomore is a small coastal town in Bar Municipality, Montenegro. A 2011 census put the population at 2,004.

History
Sutomore was called Spizza in Venetian, when it was under the Republic of Venice from 1420 to 1797 and belonged to the Albania Veneta, except for short-lived Ottoman occupations. The Austrian census of 1910 reports that there were Venetian speaking families in Spizza in the twentieth century.
Overview
Sutomore is tourism oriented community. It is a popular budget destination and a weekend resort, catering to tourists from Montenegro and the surrounding region. It is popular for its 2 km (1 mi) long sandy beach and vibrant nightlife. Sutomore is located on the Adriatic Highway (E65/E80), and is connected to Podgorica and inland Montenegro via Sozina tunnel. It is also a stop on the Belgrade - Bar railway. The ease of access, coupled with its beach, has made Sutomore very popular budget destination. However, the sheer number of tourists, combined with informal and spontaneous building boom and lack of urban planning, have contributed to chronic traffic problems. As transit traffic from inland Montenegro to Bar goes straight through the town, traffic jams and crowded streets are a commonplace during the summer months.
Sutomore is especially popular with the younger crowd from Serbia and rest of Montenegro, as its beach promenade is lined with numerous bars, cafes, fast food restaurants and nightclubs, while it is more affordable than the 'upscale' resort of Budva.
Prices in Sutomore
Prices in cafes:
Coffee – 0.9 EURO
Juice – 0.8 – 1.5 EURO
Prices in pizzeria:
Pizza – 4 – 10 EURO
Spaghetti – 4- 8 EURO
Prices in restaurants:
Average meal – 10 – 20 EURO